Resources
The Fundred Dollar Bill Project offers classroom discussion,
hands-on exploration and important lessons beyond the classroom.
Your students will:
see

how art can change perspective and create awareness

experience

a creative approach to democracy

contribute

to making a safe environment for other children

initiate

important environmental, health and social change

be

collaborators in a nationwide, well publicized public artwork

bring

learning to life by connecting classroom lessons with community service projects
Fundred is a cross-curricular opportunity
to introduce:
Social Studies and Political Science

Environment, Science and Health

Art and Design

Community Engagement

Peer to Peer training and learning
Participate Now–Here is How
Your students' contributions will demonstrate that their creative actions can make a difference.

Estimated Class Time
Introduce Fundred in as little as 20–60 minutes or as an extended lesson over a few days. See Lesson Plans for a range of presentations.
Necessary Materials
Fundred Templates

and Instructions

​​​​​Drawing materials

(pens, pencils, markers, crayons, 2-D collage)

Scissors

(to cut the final artwork from the template).
Getting Started
Introduce Fundred with these basic instructions:
1. Distribute one Fundred Template per student.

2. Instruct per grade level. Resources are available here.

3. After drawing, ask students to cut along the thin blue line to "free" the Fundred
Dollar Bill.

4. Contribution is an important part of Fundred. Ask if students want to donate their finished art to be part of a nationwide art collection. If so, they will sign on the line provided on the Fundred Template. Then you sign, as "witness," in the other space provided.

5. Cut out and use the Fundred Bundle Band to wrap multiple Fundred Bills together; use tape or a glue stick to secure the Bundle Band to itself.

6. On the Bundle Band write the number of Fundreds in the bundle, your school/organization and location.

7. Send bundles to the Collection Center and they will be added to the national collection!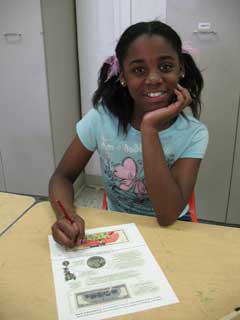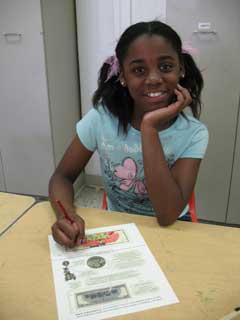 Videos
A number of videos can help share information about lead poisoning and participation in the Fundred Dollar Bill Project.
Now You See It Part 1, a 2 minute animation on lead. Directed by Mel Chin, animated by Careen Ingle, produced by Freewaves.
Now You See It Part 2, a 2 minute animation on lead in the home. Directed by Mel Chin, animated by Careen Ingle, produced by Freewaves.
Fundred PSA, a 3.5 minute overview of Fundred project and lead - told by kids. Produced by SmartLab.
Operation Paydirt, a glimpse into Operation Paydirt: Cincinnati and Mel Chin's Studio. Produced as part of A Blade of Grass FIELDWORKS series.
How To Draw A Fundred, in this 1.5 minute short video, Ashby shows us how to fill out a Fundred.
Lesson Plans
A variety of lesson plans have been developed over the years for all grade levels and connected to a number of subject areas. You can use the lessons below as a starting point for your own classroom participation.
Fundred Unit Overview for DCPS (2017)
This most recent unit overview is a great go to for teachers anywhere to begin to plan their own Fundred Lesson!
The Washington DC Public Schools participated in district wide Fundred making and resulting Fundreds were on view at the Fundred Reserve exhibition at the Corcoran Gallery. This Unit Overview is an adaptation of earlier lessons, and provides teachers with framework to develop their own unique lessons.
K-12 Lessons Plans from Grand Rapids Initiative (2014)
An inspiring suite of lesson plans for K-12 has been written by Prof. Donna F. St. John of Kendall College of Art and Design. The lessons cover a variety of age appropriate concepts related to lead and Fundreds, and they sequentially build upon each other. Each lesson is written in the 4-Tier Intentional Teaching and Curriculum Design format, covering discipline standards, integrated standards, Multiple Intelligences (Dr. Gardner) and Mind Styles (Dr. Gregorc).
Additionally, Prof. Donna F. St. John introduced Operation Paydirt to students in her classroom. The result: KCAD Art Education students Laura Thomason, Misssy Powlak, and Nicole Boysen designed an additional suite of lesson plans based on the 4-Tier Intentional Teaching and Curriculum Design format, which considers art standards, integrated standards, multiple intelligences, and mind style diversification. Supporting Powerpoints are provided for each lesson plan.
Shared Lesson Plans from New Orleans' Initiative (2008-2010)
Be inspired! See examples of how Fundred has been presented in classrooms around the country.
A Basic Lesson Plan (Stephanie Zanocco, CA)
Cross-Curricular Lessons (Holley Smothers, MO)
Cultural Currencies of the World: Research + Geography (Kerrita Mayfield, VA)
Dirt: A Resource for Integrative Learning (Connie Stewart, CO)
Earth Day (Fundred News)
Lead-Soil-Health: Teaching Kids About Lead + Health (Suzy Hobbs, NC)
Los Dineros del Mundo: World Currency in Spanish (Andrew Ward, KS)
Mardi Gras Ideas (Fundred News)
Points of View: Art that Affects Change (Anne Polashenski, NY)
Power of Collaboration: Art, Science, Social Studies, Language and Math (Joe
Fusaro, NY)
School Arts Lesson: Fundred for All Ages (Mary Rubin, CA)
Service Learning Lesson Plan (Ashby Foote, MD)
State Standards
Examples of State Standards.
Curriculum Correlations: Art, Math, Science, Environment, Social Studies, Civics, Language
California: State Standards
Missouri: State Standards
North Carolina: Curriculum Connections
Texas: 5th Grade Standards

Have you developed your own Fundred resource? We encourage you to share. Please e-mail pdf or word documents to Fundred Team at info@fundred.org.

Ideas for Getting the Word Out!
Introduce

to your students

in the classroom

Explain the project

to your school principal and/or in teachers' meetings

Plan a school-wide Fundred Day

Plan an assembly

to share information about lead

and hand out Fundred Templates for students to do then and there. Have a collection box ready at the door.

Have a FUNDRED Table

at fairs, Election Day or other events. Students can man the table. Want resources for Fundred event tables? Click here

After school

workshops are great

Look to other opportunities:

Scouts, youth centers, retirement homes, home school networks, art centers, community events, fairs and farmers markets

Partner with an art center

, museum or other venue to display bills created in your area

Please let us know your ideas too!
Note: the least effective way to introduce Fundred is through homework; templates often don't make their way back to the project!