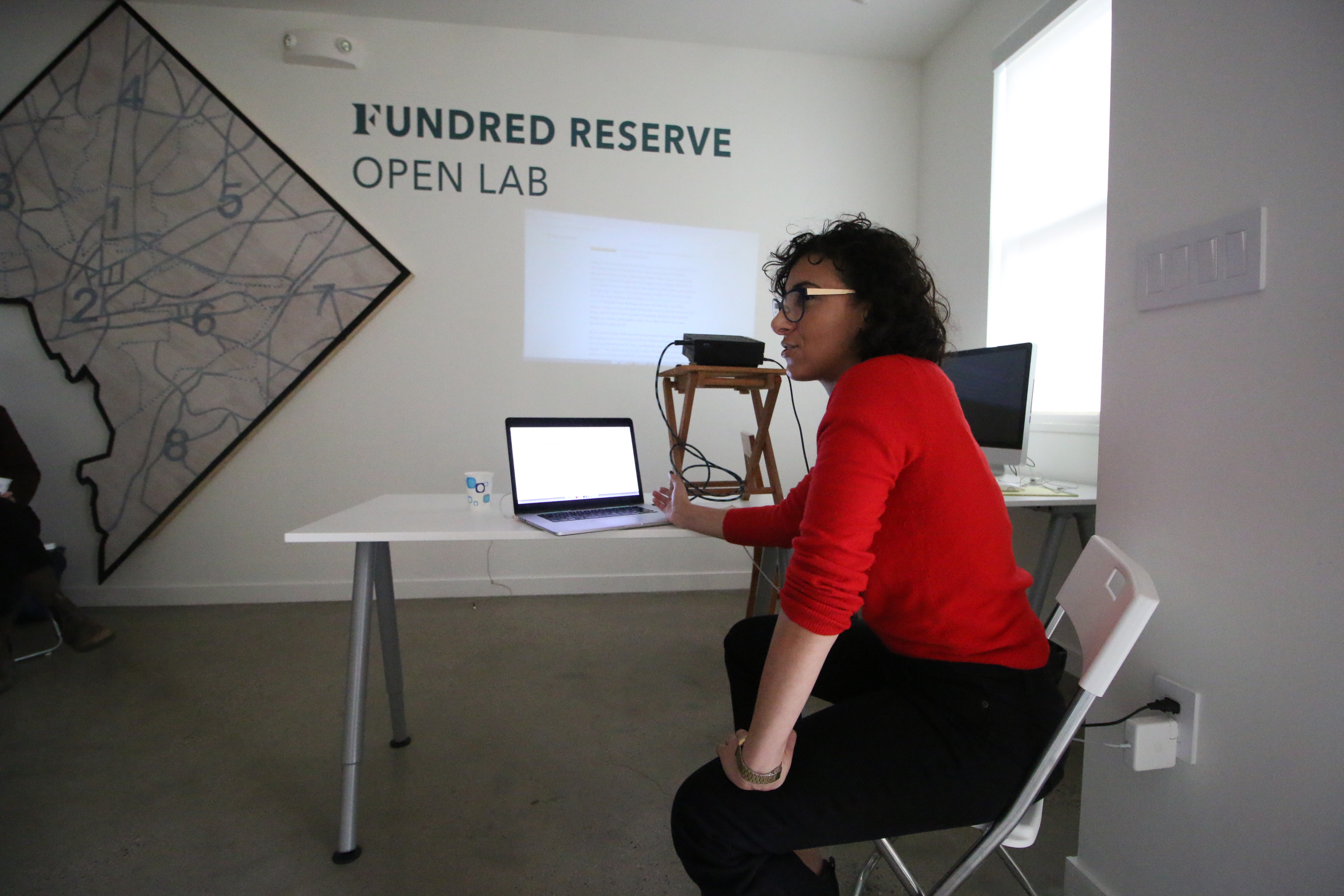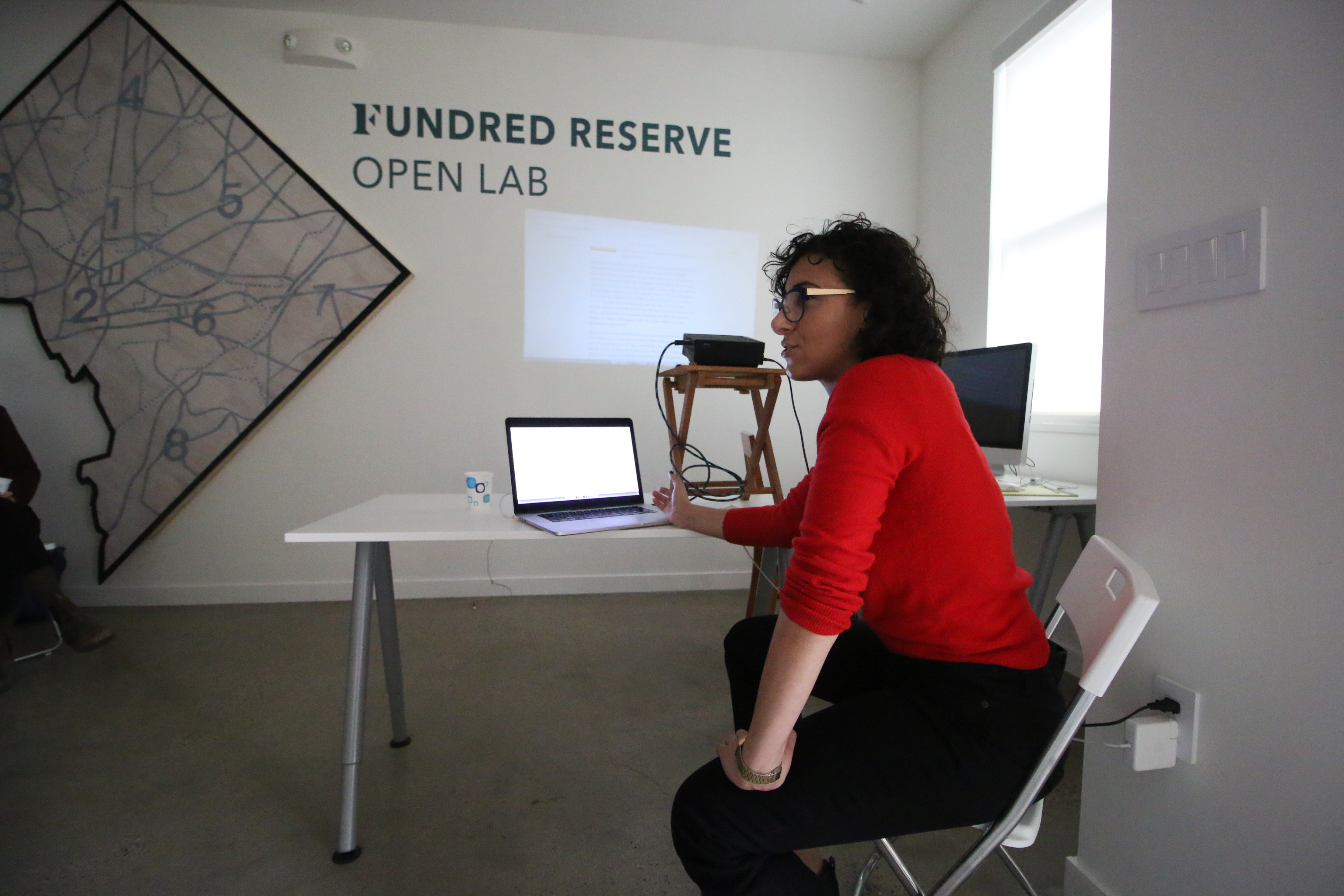 Nadia Gaber @ Fundred Reserve Open Lab
Dec 2, 2017
We greatly appreciate Nadia Gaber for sharing her research and insights on the work towards healthy water in Detroit and Flint at Fundred Reserve Open Lab in DC.  Gaber's presentation addressed systems of analyzing lead data and the health effects of mass water shutoffs, as well as her work with We The People of Detroit. Join us at future events that engage lead issues and more at Fundred Reserve Open Lab.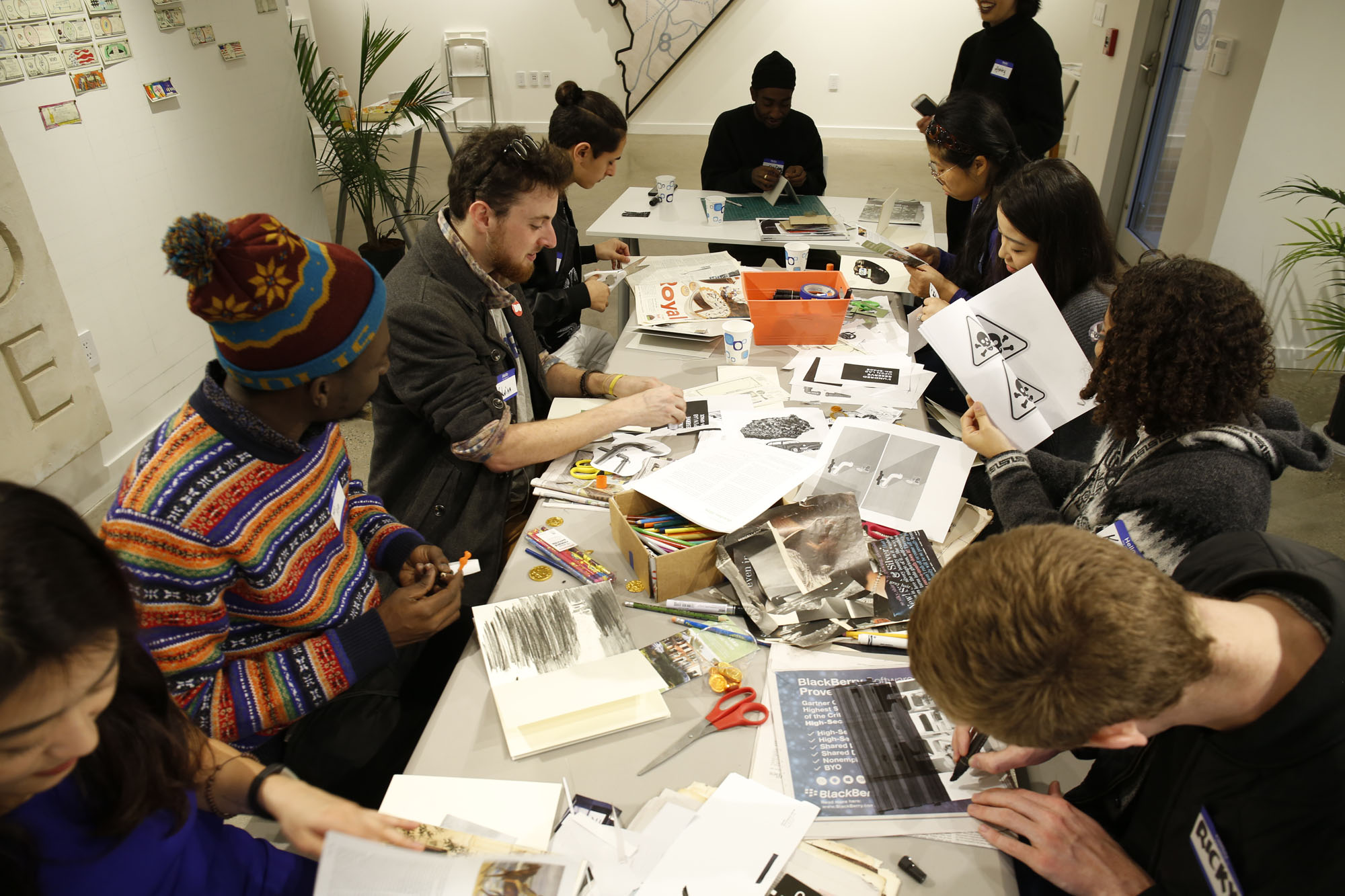 FUNDZINES Workshops
November 26, 2017
The Fundzines Workshops at Fundred Reserve Open Lab have begun!  This ongoing series curated by Audrey Zhuoer Liu, invites participants to learn about lead and Fundred through dialogue and creativity in the hands-on making of zines. The Fundzines will be on display at the Open Lab @ H Space through March 2018 and distributed more widely, soon. Check out the schedule for future zines here.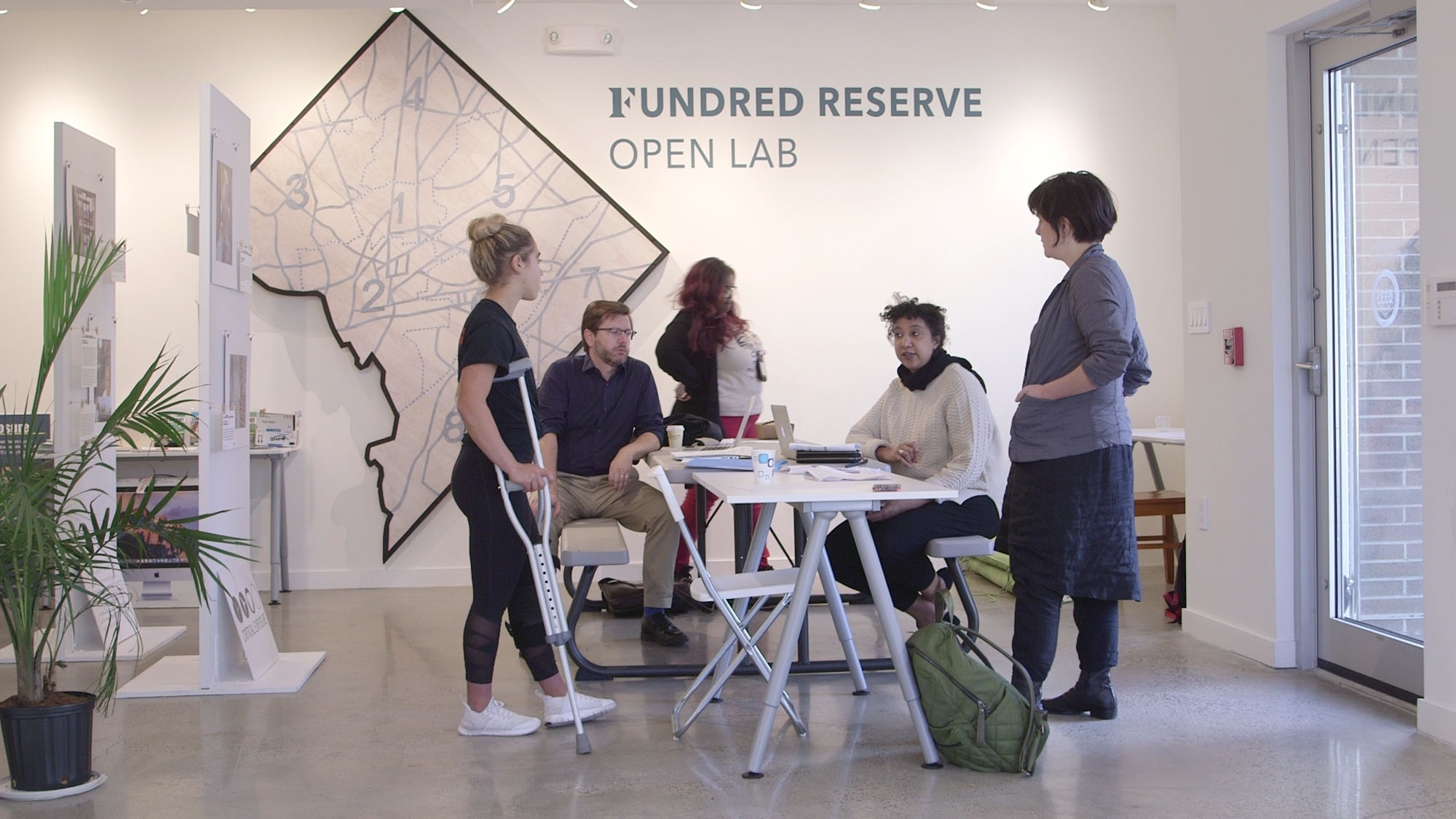 Funded Reserve Open Lab @ H Space
October 23, 2017
We are proud to announce the latest project in Washington, DC. The Fundred Reserve Open Lab hosted at H Space space will run from October-April 2018, expanding this movement and continuing to build and support the work of amplifying everyone's stories, having fact based dialogue about problems in DC, and engaging more people to take purposeful action.
We hope to host events that bring together art, education and policy communities as well as pilot engagement with local high school students to educate and inspire us to end lead exposure in DC and across the country.  Open Lab kicked off with a soft opening and a storytelling workshop led by the Million Person Project for the Fundred team, MIT CoLab and DC area lead prevention groups.  During its 6-month run, Open Lab will be activated through a Youth Ambassador program, workshops, and presentations with the community.  
H-Space is provided by Hamiltonian Artists and all programs funded by The Kresge Foundation, produced in partnership with MIT CoLab.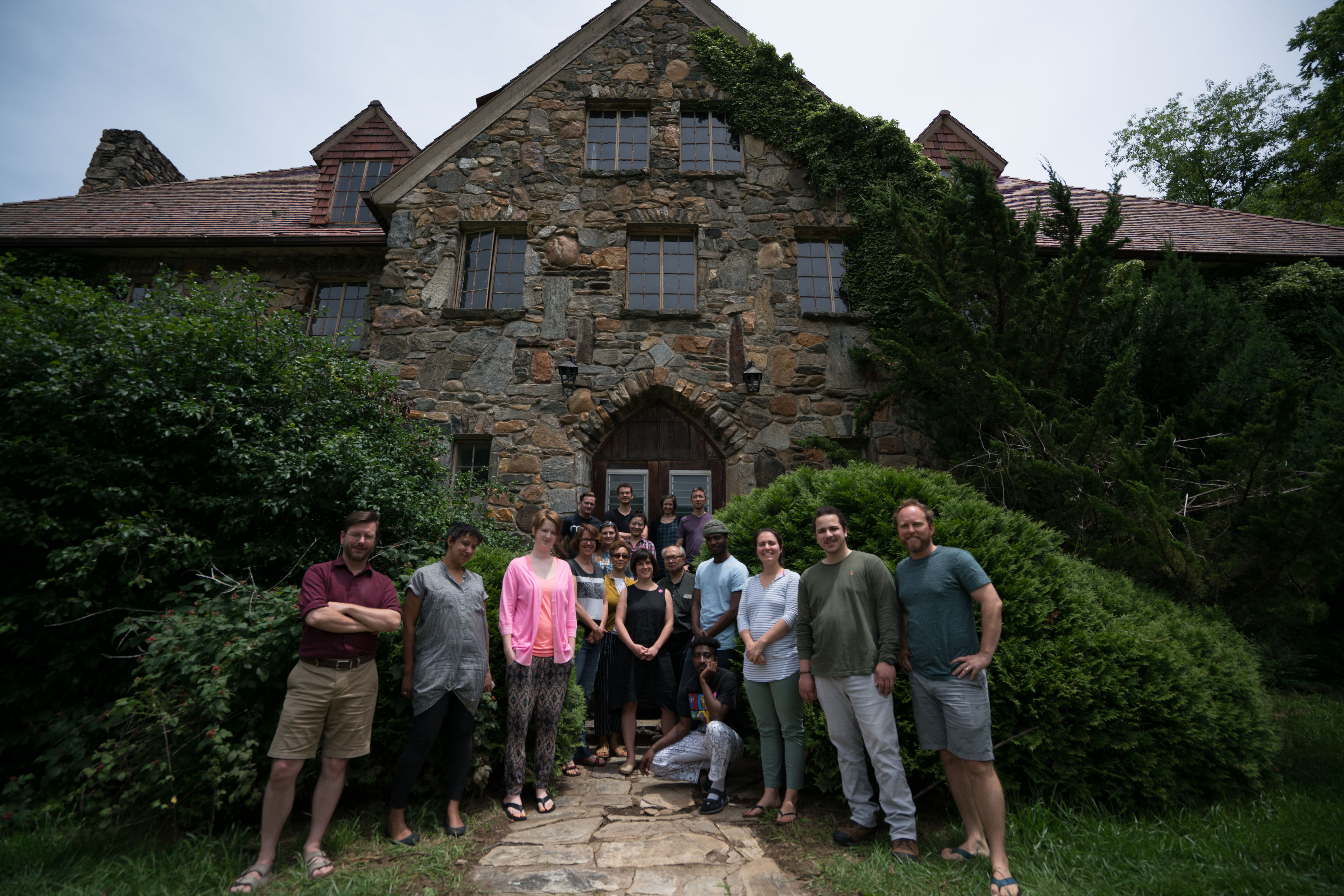 Happy Summer from the Fundred Team!
June 2017
The team is gathered at Mel's mountain studio to reflect on the year and plan ahead for 2017-2018.  We are excited for the year ahead!  Stay tuned.  (Photo Ben Premeaux)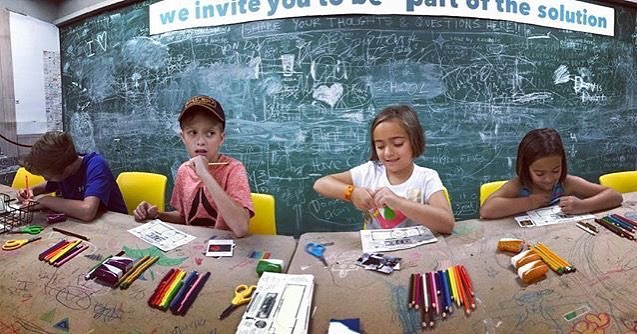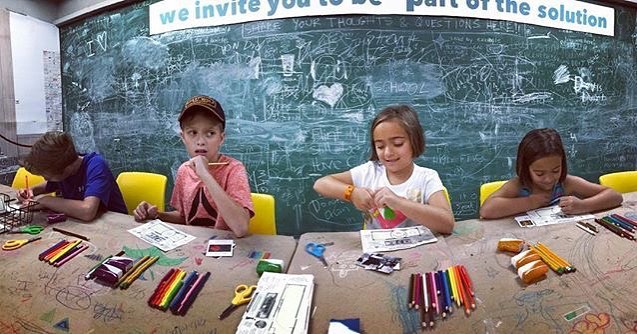 Fundred Project Space @ Torpedo Factory
May 5 - June 30, 2017
The Torpedo Factory is hosting Fundred in their New Project Studio for May and June!  Visitors to the Torpedo Factory in Alexandria, VA are invited to drop in to the workshop space and add to the conversation and Fundred Collection during this 2 month show. More info here. (Photo @krodoff)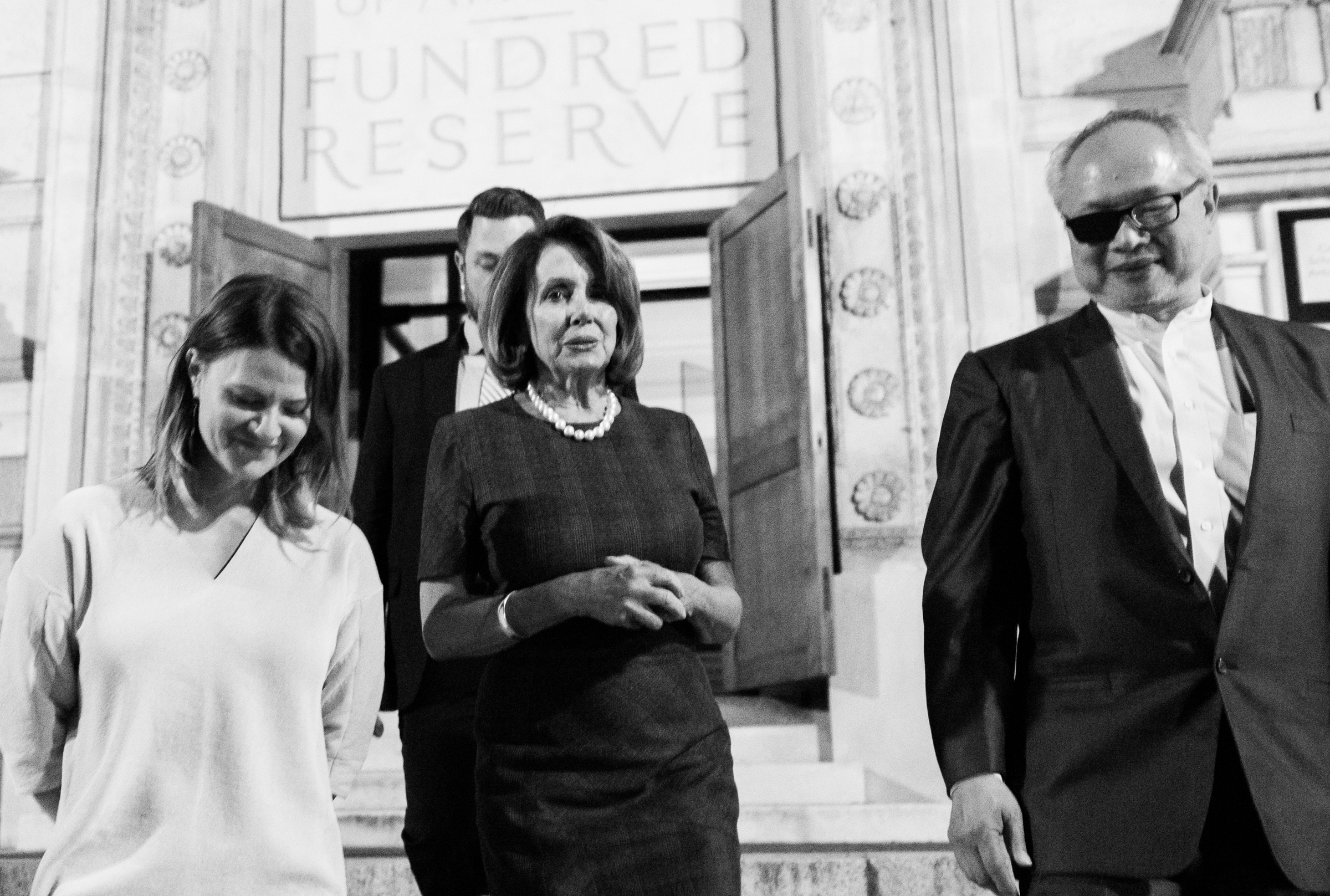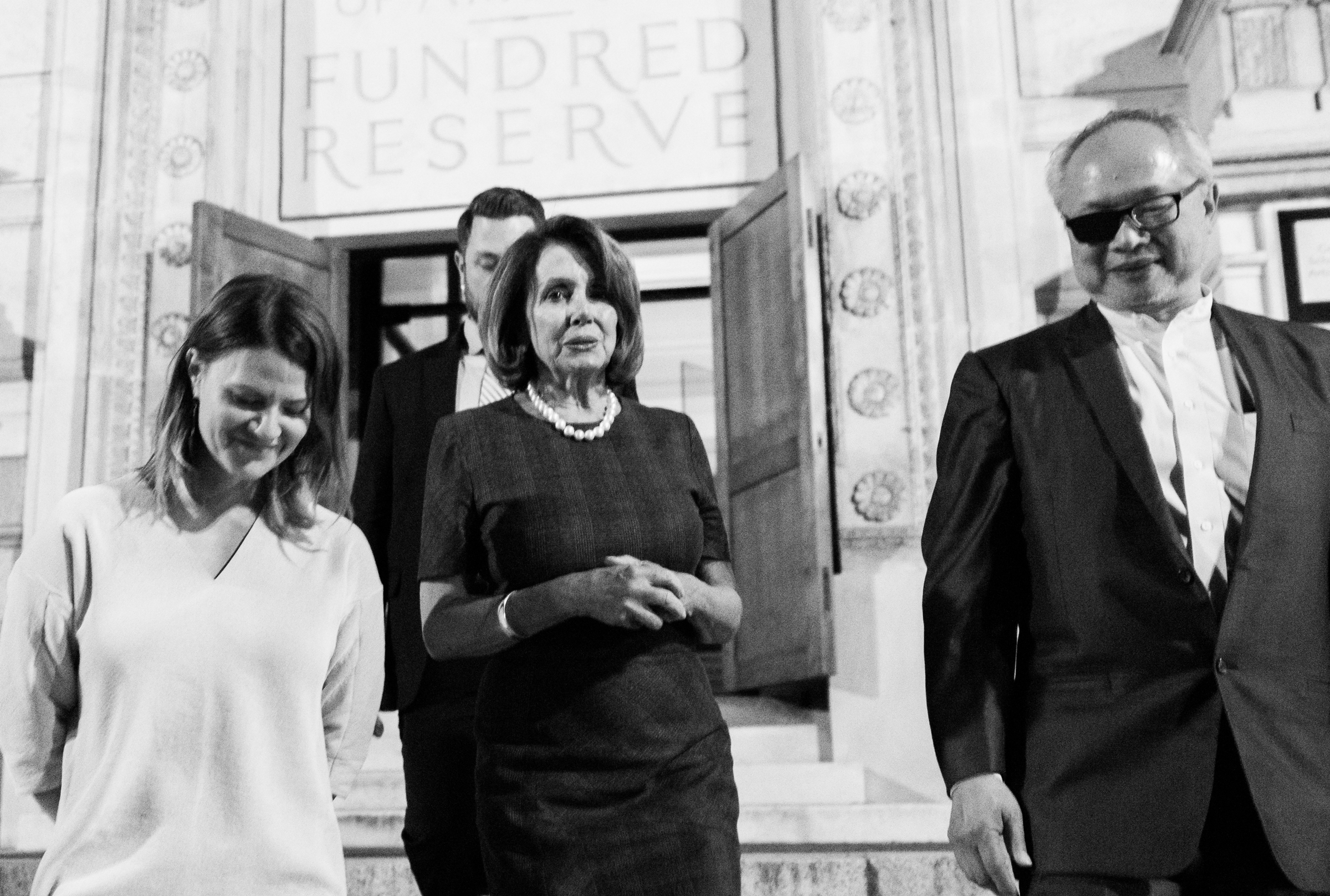 Corrina Mehiel
March 24, 2017
We are grieving the loss of Corrina Mehiel, who was an integral part of the Fundred Team. As we reflect on her contributions to the Fundred Project, which were many, we resolve to move forward in the spirit she practiced: inclusiveness, determination, hard work and love.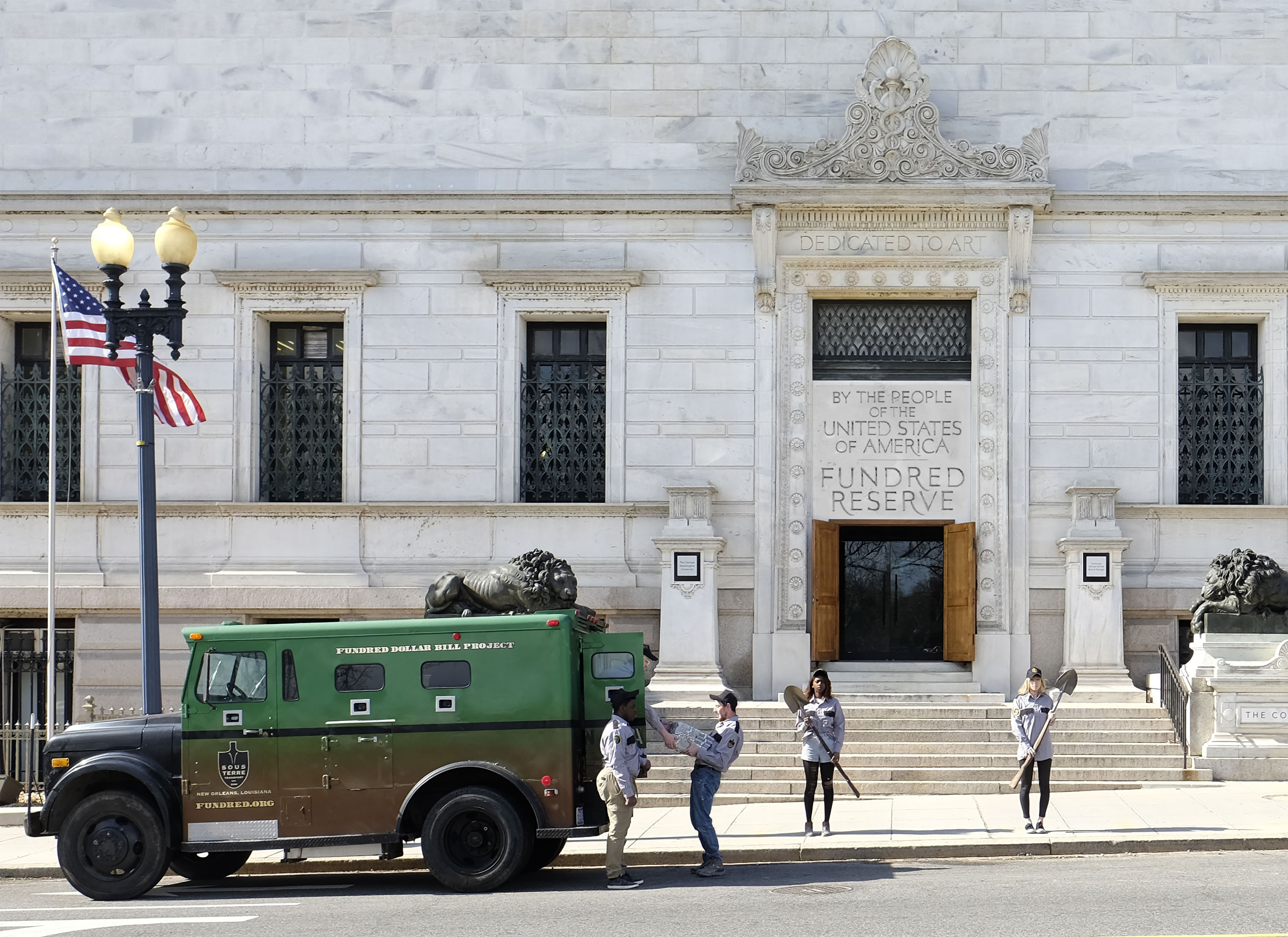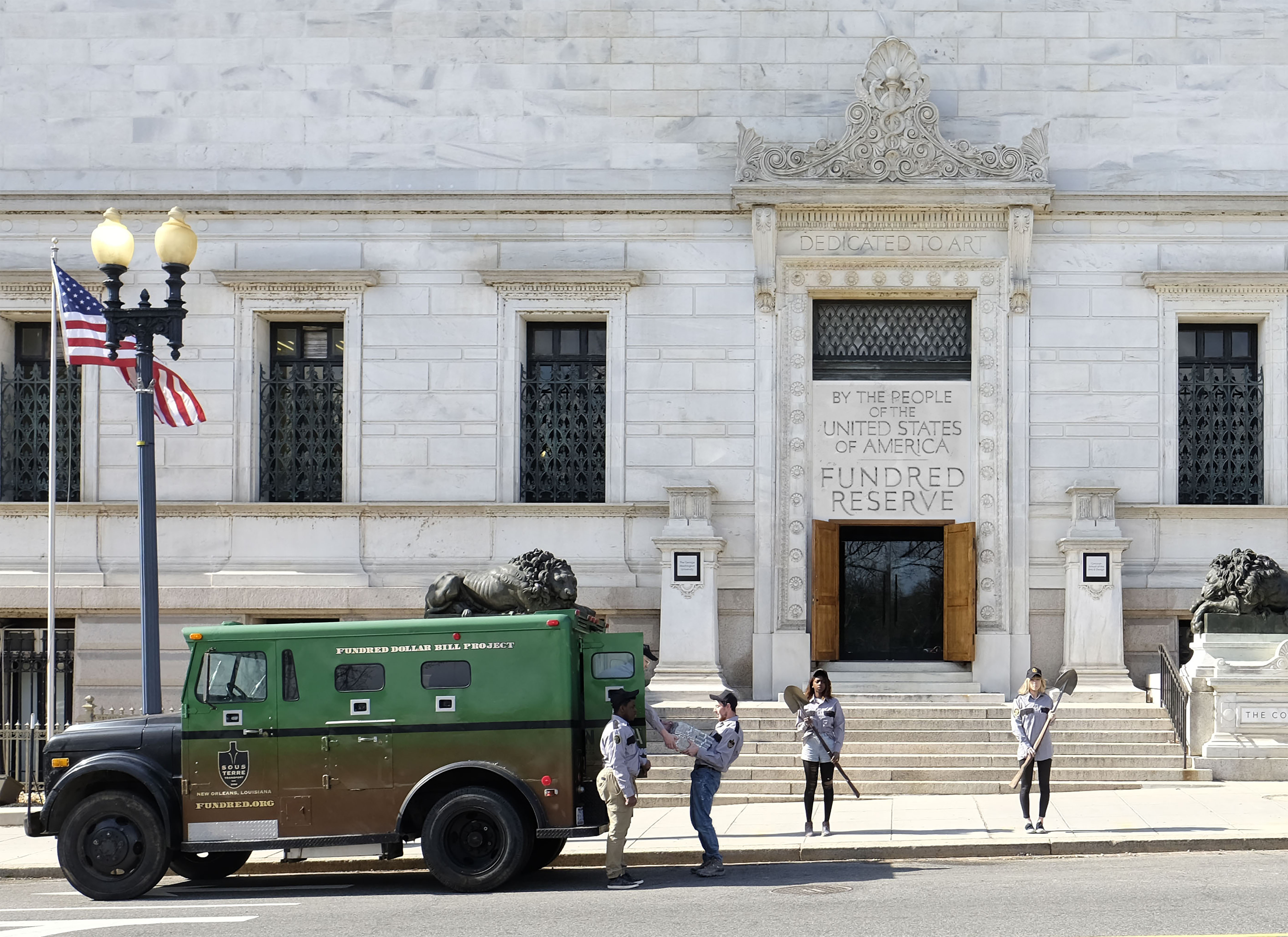 Fundred Reserve at the Corcoran in DC
February 23 - May 21, 2017
The Fundred Reserve at the historic Corcoran Museum rotunda, atrium, and galleries will display the 453,168 (and counting) Fundreds from across the country, along with the magnificent Fundred Presentation Pallet and SAFEHOUSE Door. Fundreds are individually hand-drawn interpretations of $100 bills gathered for a single purpose — to support an effort to end childhood lead poisoning. Visitors are encouraged to draw and donate their own Fundreds which will be prominently displayed in the exhibition.
The Fundred Reserve will mark the launch of participatory engagement throughout the District of Columbia.  In collaboration with DCPS Arts, students from more than 46 schools are creating original Fundreds. The Fundred Armored Truck that has traveled 20,000 miles picking up the Fundreds from around the country will be redeployed for this launch, visiting the schools and accumulating the new DC Fundreds.
Upcoming Events
Ribbon Cutting Ceremony
Thursday, February 23, 5:30—8:00p.m.     RSVP
Family Day
Saturday, March 9, 1:00—4:00p.m.       RSVP
Fundred Reserve: Official Reception
Thursday, March 9, 6:30—8:30p.m.        RSVP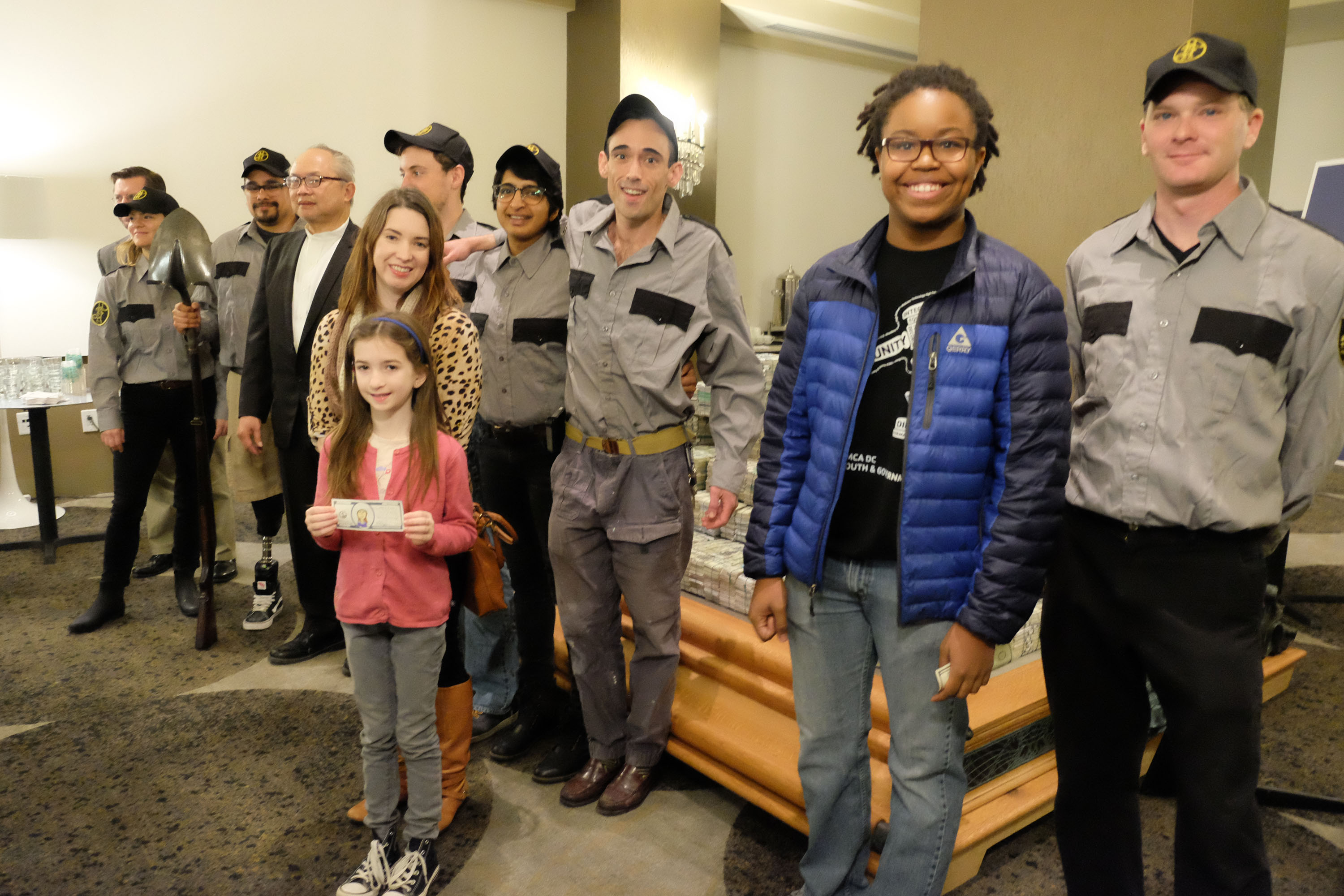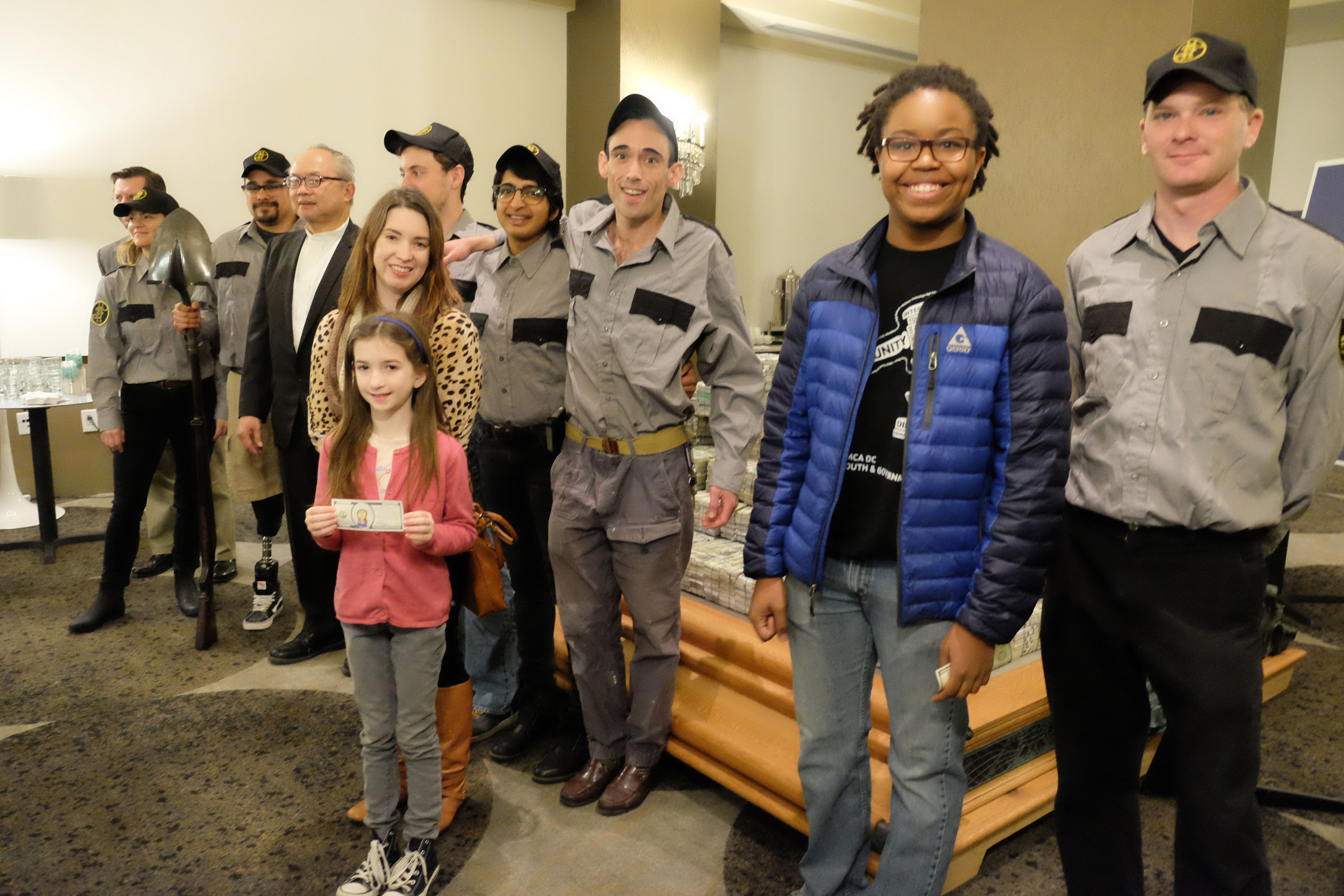 Fundred Dollar Bill Project at the National Lead Summit
December 4 & 5, 2016
We are honored to have participated in the National Lead Summit, a convening of leading experts, policy makers, advocates, representatives from government, philanthropy and the private sector to craft a Blueprint for Action and ignite a national movement to eradicate lead poisoning and improve outcomes for our communities and our children throughout the United States.  We were certainly in good company and looking forward to the work ahead, together. 
DC Fundred Mint Opens
October 26, 2016
With the DC Fundred Initiative kicking off, we've opened a Fundred Collection Center.  In addition to the Philadelphia Fundred Mint (which is actively open and receiving Fundreds), completed Fundreds can be sent in or dropped off here: DC Fundred Mint, Corcoran School of the Arts and Design, 500 17th St N, Washington, DC 20006
Fundred Headquarters moves to DC! 
September 8, 2016
Artist Mel Chin will begin serving as the inaugural William Wilson Corcoran Visiting Professor in Community Engagement at George Washington University in Washington, DC.  While in residence, Mel will work with university students, faculty, and the greater DC community on lead issues and the Fundred Dollar Bill Project. Stay tuned for developments!
Operation Paydirt Video Produced by A Blade of Grass
November 17, 2015
Check out the new short documentary on the Fundred Dollar Bill Project and get a peek into Mel Chin's studio and the early activities of Operation Paydirt in Cincinnati! Huge thanks to One Hundred Seconds Video Production for telling this story as part the A Blade of Grass FIELDWORKS series. Special thanks to our friends and partners in Cincinnati: Cincinnati Health Department, UC Criminal Justice, Cincinnati Arts Association, Art Academy of Cincinnati, and UC College of Design, Art, Architecture, and Planning!
Art Academy of Cincinnati Collaboration: Art, Design, and Social Practice
January 11, 2015 
As part of the early stages of an Operation Paydirt: Cincinnati initiative, instructor Corrina Mehiel will lead students in the Art Academy of Cincinnati's Special Course: Art, Design, and Social Practice through an exploration of how art and design can be utilized to address and impact issues of lead contamination in Cincinnati See the course webpage here.
New Lesson Plans from KCAD Art Education Students
December 12, 2014
Continuing the Grand Rapids collaborations, KCAD Art Education students Laura Thomason, Missy Powlak, and Nicole Boysen designed a suite of lesson plans and accompanying PowerPoints for use in classrooms across the country. The lesson plans are based on the 4-Tier Intentional Teaching and Curriculum Design format, which considers art standards, integrated standards, multiple intelligences, and mind style diversification. See the press release, and download lesson plans on the Fundred Lesson Plans page.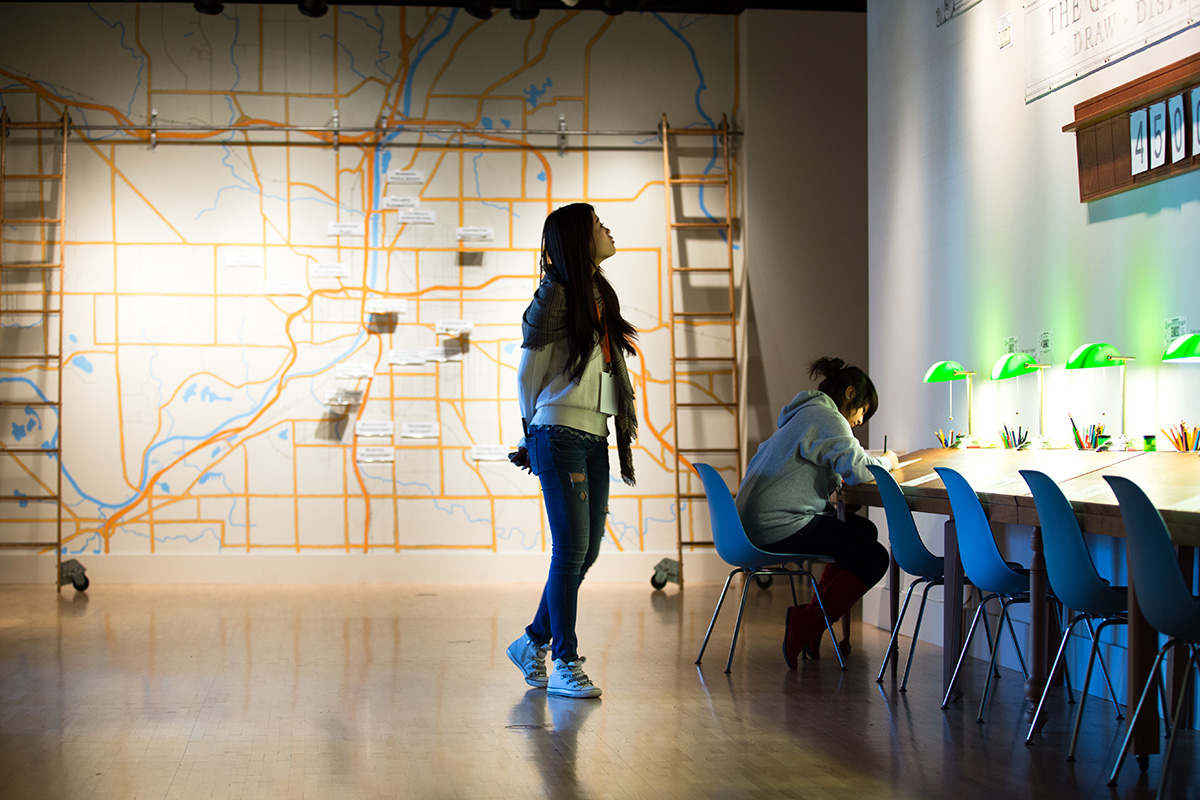 Art of the People: Inside Mel Chin's Community-Created Social Action Entry for ArtPrize 2014
September 26, 2014
All about Operation Paydirt: Grand Rapids, including gallery activities, the Healthy Homes Coalition, and invite for the city to participate can be found in this article.
ArtPrize Kicks Off!
September 24, 2014
ArtPrize, Grand Rapids Michigan's premier event, officially opens, kicking off the public engagement of Operation Paydirt: Grand Rapids. Bundles of Fundreds are being created and deposited, and the first "Communities' Choice" Fundreds are on the wall. Members of the Kendall Performing Arts Collective are serving as Fundred Guards in the gallery during ArtPrize!
New Lessons Plans Announced
September 15, 2014
An inspiring suite of K-12 lesson plans has been written by Prof. Donna F. St. John of Kendall College of Art and Design. The lessons cover a variety of age appropriate concepts related to Operation Paydirt (i.e. art, environment, symbolism, and social justice) and sequentially build upon each other. Each lesson is written in the 4-Tier Intentional Teaching and Curriculum Design format, covering discipline standards, integrated standards, Multiple Intelligences (Dr. Gardner) and Mind Styles (Dr. Gegorc). Download lessons here.
Operation Paydirt: Grand Rapids Design Workshop
September 11, 2014
In collaboration with Kendall College of Art and Design and the Healthy Homes Coalition, OP hosted a design workshop, facilitated by Gayle DeBruyn (KCAD Collaborative Design), that brought together leaders working in lead, health, and education. The 3-hour workshop was an opportunity to creatively explore childhood lead poisoning as a community problem that requires the entire community to solve. Amplifying the tremendous work already being done in Grand Rapids, the workshop outcomes are informing outreach to schools, community, and leaders
The Fundreds on View in St. Louis
September 5, 2014
The Presentation Pallet for the Fundreds by the People of America is on view at the Contemporary Art Museum St. Louis (CAM) through December 21, 2014. Museum visitors are invited to contribute a Fundred of their own. CAM is enrolling area schools to participate, and setting up Fundred booths at community events.
Operation Paydirt: Grand Rapids show opens
August 21, 2014
I Am: Money Matters opens at the Fed Galleries @ KCAD. The gallery will be the epicenter of the project that will showcase participation happening in the schools and community. The gallery installation is reminiscent of an old-fashioned bank, including a hand made wooden bank table, banker-style lamps, and a Fundred deposit box. 'Communities' Choice' Fundreds invites any school, organization, business, or group depositing bundles of Fundreds to select a representative Fundred to be showcased on the gallery wall. Area schools with school-wide participation will earn a spot on the hand-drawn wall map.
Initial Spark of Operation Paydirt: Grand Rapids
June 2014
Kendall College of Art and Design (KCAD) invited Operation Paydirt to participate in the gallery's ArtPrize exhibition, I Am: Money Matters. ArtPrize brings large numbers of the public (up to 400,000 in past years!) into downtown Grand Rapids to interact with art. OP embraced the opportunity to engage new partners, and the public, in a conversation around the impact of lead and the well being of future generations – and how we can be part of the solution! Thus sparking the Operation Paydirt: Grand Rapids initiative.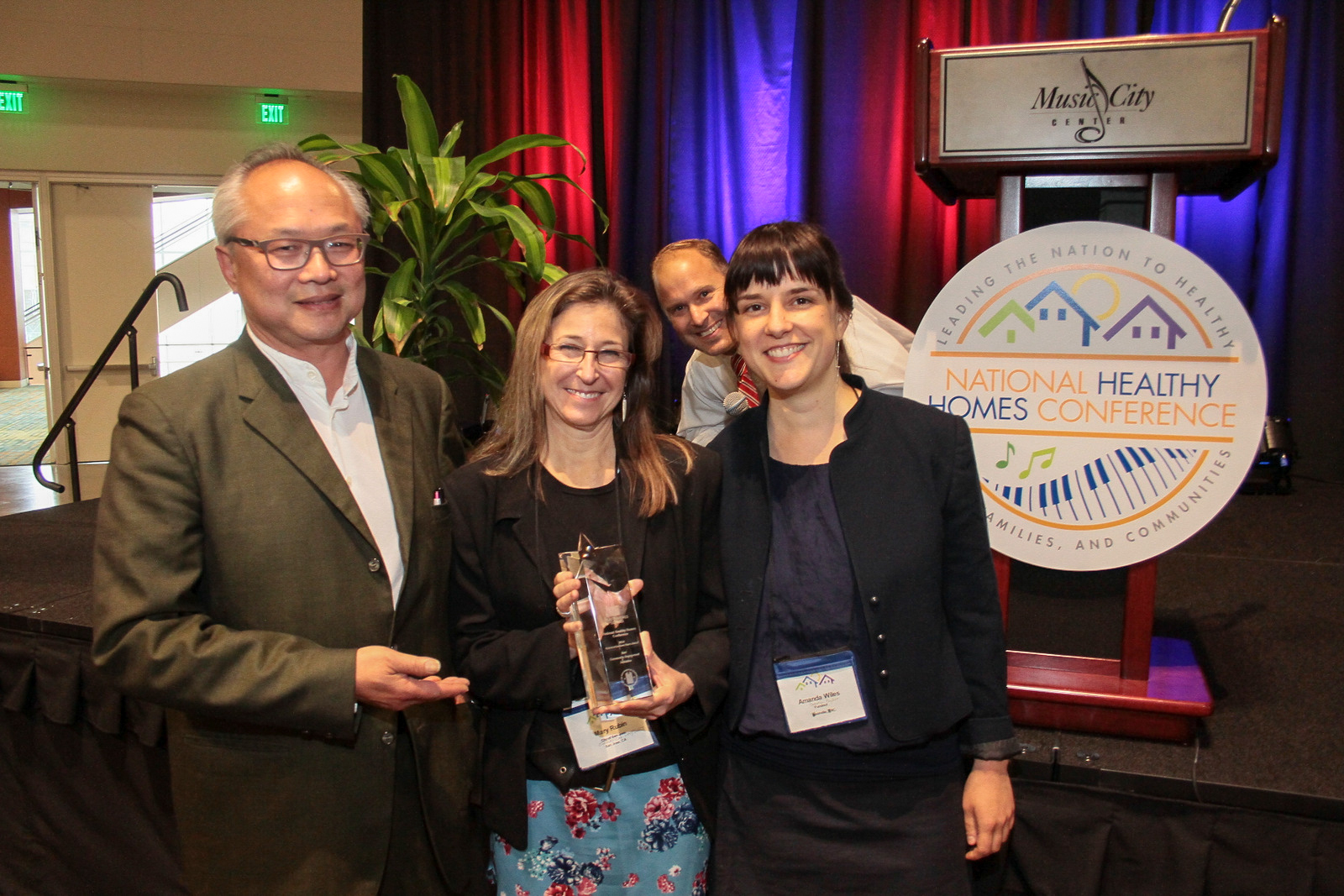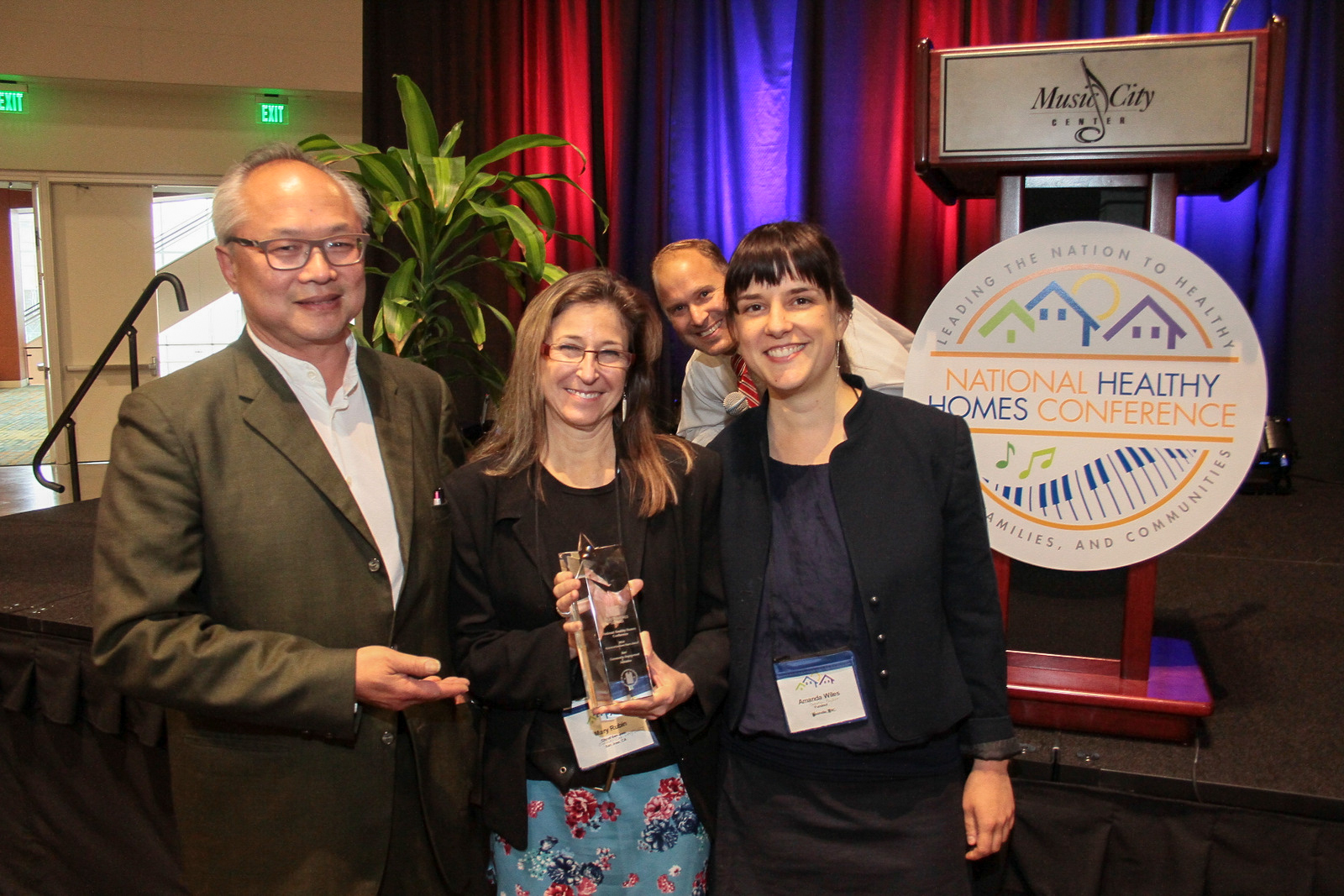 Healthy Homes Communications Star Award for Best Community Engagement Initiative
May 30, 2014
Operation Paydirt was awarded the Healthy Homes Communications Star Awards for Best Community Engagement Initiative at the National Healthy Homes Conference in Nashville, TN. Thanks to HUD's Office of Healthy Homes and Lead Hazard Control (OHHLHC) and its partners, HGTV and DIY celebrities, conference attendees and other industry experts for the vote! Photobomb by Matthew Ammons, acting director of HUD's Office of Lead Hazard Control and Healthy Homes.
Cheryl Maney on the Operation Paydirt: Charlotte Initiative
May 23, 2014
A Blade of Grass talks with Cheryl Maney, Pre K-12 Visual Arts and Dance Curriculum Specialist at Charlotte Mecklenburg Schools, about engaging students district wide in Charlotte, NC.

"In our district we promote personal voice in students' art. We also promote collaboration. Each year as the Curriculum Specialist, I select a visual arts-based, socially engaged project for our teachers and students to participate in. We want our students to understand the power of art, the ability to express one's voice through art, the effects of collaboration and how art can impact social issues." – Cheryl Maney

Read the full interview, "Report from the Field" on A Blade of Grass.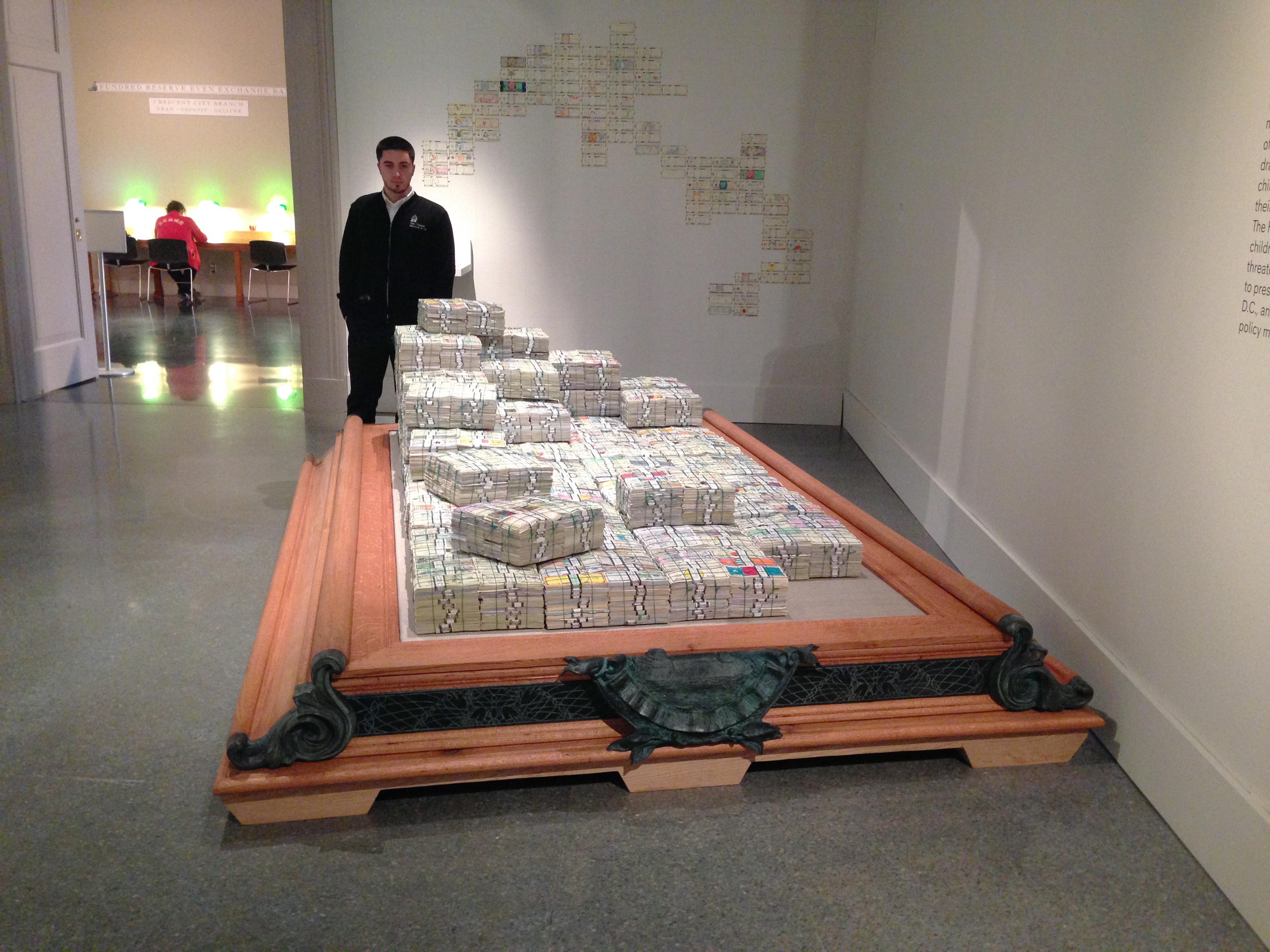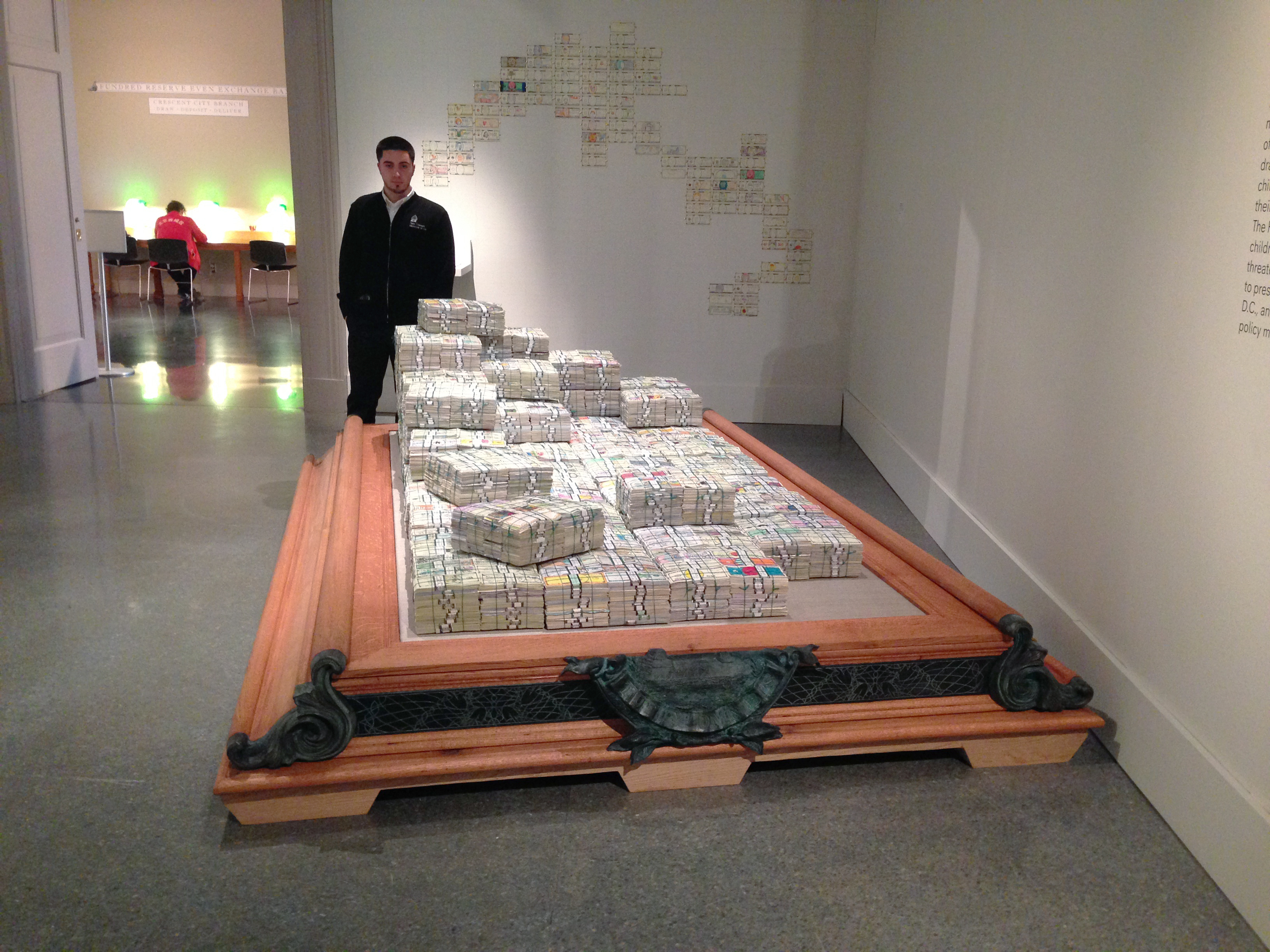 The Fundred Pallet Debut!
February 21, 2014
The Presentation Pallet for the Fundreds by the People of America made its debut at the New Orleans Museum of Art, February–May, 2014. The cast bronze, book-matched, quarter-sawn oak and silk pallet is exhibited as part of REMATCH, a 40-year retrospective of Mel Chin's solo and collaborative artworks. On top of the pallet is the artworks of nearly 450,000 individuals who have contributed Fundreds so far, providing a preview of the eventual Fundred Delivery.
Now You See It Airing to Millions of Viewers on L.A. Buses
February 20, 2014
Now You See It, a two-part animated video that communicates the invisible threat of lead, began airing on 2000 buses in LA county starting February 21. The video encourages millions of riders to call the provided phone number to connect to local prevention resources.